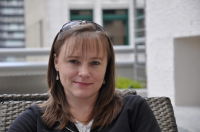 Content Manager, Writer, & Editor
Welcome to my professional portfolio. For writing and editing samples, simply click the book icon above.
Please visit my LinkedIn page to connect with me:
www.linkedin.com/in/crystalhthomas/
Highlighted Skills:
• Highly experienced technical communication professional with a proven track record of developing effective online/offline content for high-tech organizations.
• Skilled project manager, known for meeting and beating all assigned deadlines.
• Able to write in multiple styles for multiple target audiences.
• Fluent in the Microsoft Manual of Style for Technical Publications, the Microsoft Computer Dictionary, and AP style, among others.
• Advanced software proficiency and fundamental programming knowledge.
• Experienced with diverse content types, including UI text, technical documentation, web content, marketing copy, and print publications.
• Certified in Technical Writing, Publishing, and Hootsuite Social Marketing
Expertise Content Management, Technical Writing, Technical Editing, Web Copywriting, UI Writing, Project Management, Research
Skills 20+ Years of Professional Writing & Editing Experience / Content Management & Development / Advanced Microsoft Office Proficiency / Technical Writing and Editing / Contractor Management & Scheduling / Prioritization & Project Management / Style Guide Creation & Compliance / End-User Training Guides & Documentation / UX Writing / Copyright Issues & Trademarks / Cross-Functional Team Collaboration / Digital Publishing/Social Media / Marketing Copywriting / Web Publishing & Online Content Maintenance / Experience with HTML, XML, Markdown, GitHub, Madcap Flare / Writing for SEO / Writing for Global Audiences / WordPress & Website Management
Location Redmond, WA